NAVY BLUE KITCHEN CABINETS INSPO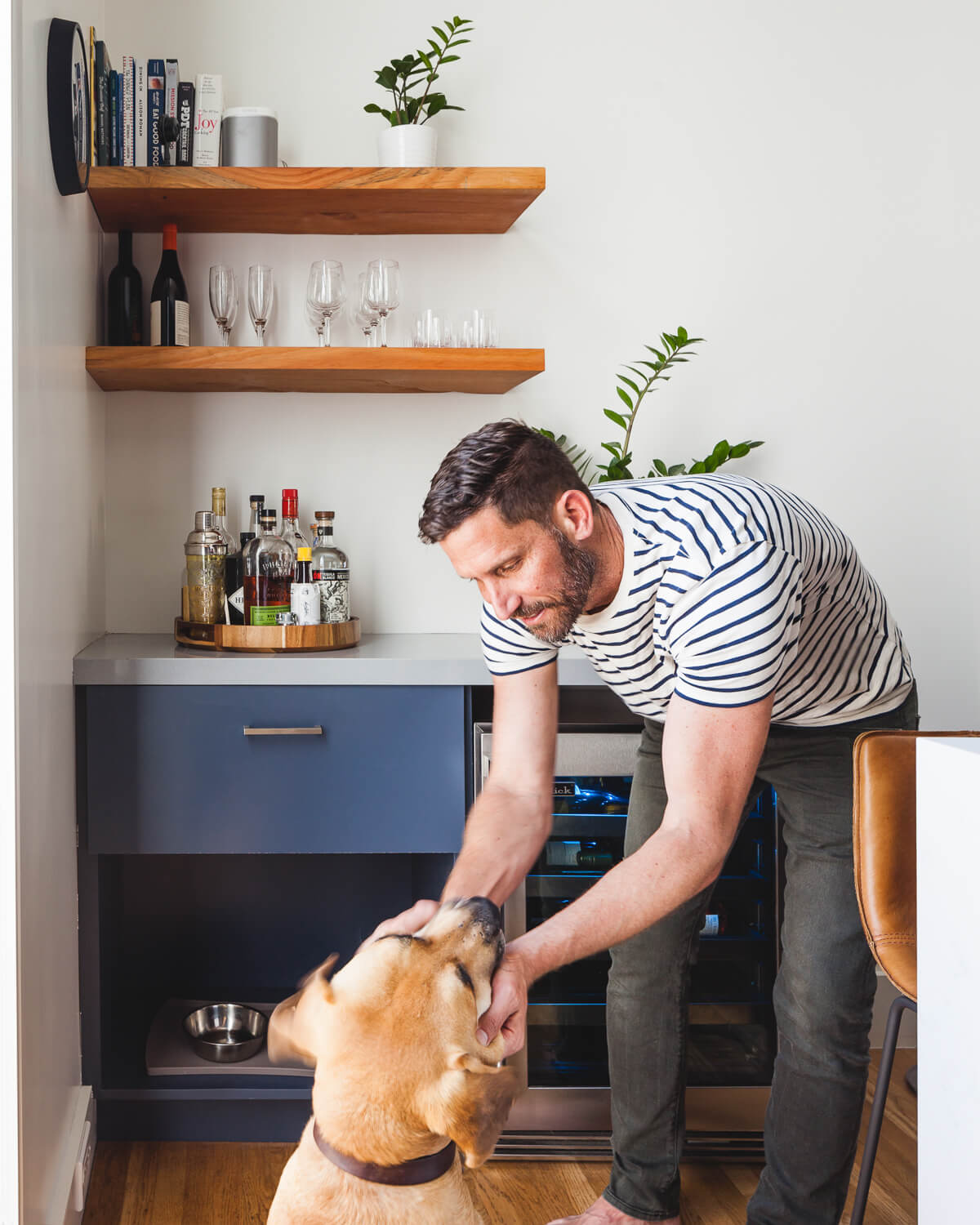 Navy Blue Kitchen Cabinets
With so many kitchen design options to choose from, you might feel overwhelmed when it comes time for an update. Here's a tip: Navy blue kitchen cabinets can give your kitchen an effortless designer look. Deep, vibrant navy cabinets look great with all types of kitchen surfaces, from stainless steel and marble to wood and classic linoleum. The moody sophistication of navy blue cabinets is perfect for any setting. Why then have we not introduced Navy blue kitchens sooner?
Best of all, it's a fairly neutral color that can give your kitchen a completely fresh, customized look, without you having to go to the expense of having a complete kitchen makeover.
As navy blue is perceived as a color of luxury and wealth, your new navy blue kitchen will appear more expensive, almost like a custom cabinet. Blue is also associated with trust, so it is popular among banks and governments as well.
It works equally well with either a modern kitchen style or a more traditional style like shaker cabinets in farmhouse kitchens. An environment with the right lighting can make a navy blue kitchen cabinet look stunning.
You can use a two-toned kitchen cabinet style to introduce navy blue to your kitchen. Here is where you would introduce two colors into your kitchen design. As an example, you may have a white top cabinet and a navy base cabinet. With this light shade, you are able to introduce color to the room without overpowering it. Consider using your kitchen island to introduce navy blue into your space if you have space for one.

Benefits of Navy Blue Kitchen Cabinets
For a room that serves different purposes, navy blue is an equally functional color. Navy blue cabinets provide a mood that's both calming yet invigorating. This shade of blue in particular gives extra warmth and coziness to kitchen gatherings.
Navy kitchen cabinets seamlessly integrate with a wide variety of colors and can provide a beautiful complement to many common kitchen materials. Likewise, navy blue goes with a wide variety of decorating schemes from every era. Whether your preferred design is French Provincial, farmhouse, mid-20th century or contemporary, navy blue will provide the perfect backdrop to your décor.
If you're ready for a breath of fresh air in your kitchen, consider choosing navy cabinets. You'll be amazed at how they bring life to all your favorite colors and designs!
QUESTIONS ABOUT NAVY BLUE KITCHEN CABINETRY
Is navy a trendy color for kitchens?
At the moment, navy kitchens are very popular, and you can see that in the color options available on the mass market. Navy has remained a popular color throughout history, and thus isn't as risky as green and orange.
Navy cabinets will they go out of style?
Definitely not in the near future! All the trends points towards navy blue cabinets as remaining a popular option in a contemporary kitchen.
What color goes well with navy blue kitchen cabinets?
The navy blue kitchen cabinets are actually very versatile and should definitely be considered when remodeling your kitchen. White, gray, and other neutral colors do very well with navy…as you may imagine. However, other vivid colors also go well with navy cabinetry. Among the many options available with a navy blue cabinet are gold, orange and yellow.
What countertop color goes with navy blue cabinets?
White countertops are the most obvious choice to complement dark blue cabinets. This color, however, contrasts well with grays, blacks, as well as whites. For a truly bold contrast with navy cabinets, you should consider orange or green worktops. The most popular option still remains marble countertops, but quartz countertops are gaining in popularity.


ALL THE NAVY BLUES
Are you here for Navy Blue Kitchen Cabinets? We have 6 Navy Blue Cabinet Fronts for you to choose from. See our entire collection of Navy Blue samples. Want a breakdown? See Painted Navy Blue options in Naturals. See Acrylic Navy Blue options in Euro and see Navy Blue Thermofoil options in Bylder. Order samples today and see them in your home in just a few days.
Whether it's an all Blue Kitchen in paint, wood or other modern finishes you can start with visualizing your cabinets and get pricing by having a Mod Cabinetry certified designer plan your Kitchen. Sign up today and we'll start working with you on your Kitchen right away.
Navy Blue Cabinet Options
Don't see the right Navy Blue? Choose any Navy Blue from Sherwin Williams for a custom paint color in the Naturals Line. Custom color process is a $1400 add-on fee.
With customizations, faster lead-times and lower pricing, Naturals is a perfect

alternative to local custom cabinetry.
---
Walnut, Rift Oak, Painted, Maple, Alder and Cherry

All Wood

All USA made

Touch Latch options
Blum Hardware Throughout

All Wood

All USA made

Fully assembled
With faster lead-times and lower pricing, Euro is a perfect

alternative to import European cabinets.
---
Euro High Gloss, Matte and Textured finishes

Want handles? Check out Arda option
Want handleless with aluminum channels? Check out Segmento option
Want handleless with integrated pulls? Check out Curva option

Made in Europe

Fully Assembled
With a larger catalog of options, modifications, plywood casework, Bylder is a perfect

alternative to IKEA

.
---
Matte and standard Thermofoil

Solid quality

Assembled in California with imported parts

Fully assembled
QUICK AND EVEN MORE AFFORDABLE
STOCKT
With lighting fast lead-times quality European made parts, Stockt is a perfect

alternative to stocked cabinets imported from China
---
European Made

Stocked and ready to ship
3 Finishes

Fully assembled
Start Designing Your Navy Blue Cabinets
Mod certified designers are experts at high-end modern design. These are not your big-box store or classic kitchen designers. They are superheroes of modern design principles. Clean lines, flush look, and unique symmetry are just some of their superpowers. Hire us to design the layout of your Mod Cabinetry kitchen.
We use state-of-the-art rendering and panoramic software to give you the absolute best impression of what your cabinetry will look like before you buy. Our Plus and Primo design plans come complete with photorealistic renderings and a room walk-through. Go ahead, click the yellow bull's-eye and give it a try!
START WITH REMOTE DESIGNER
Our Mod certified designers work with you on your terms. No hard sells, showroom hopping, or big-box stores. Whether we are converting your professionally made plans or starting from scratch, we listen and are just one click away on your own design dashboard.
Use our FREE planner and design your kitchen using our curated catalog. See for yourself how you can lay out your kitchen, add appliances, and visualize it all in color renderings based on your selected finish.
STANDARD KITCHEN LAYOUT
$199
Layout + Price Mod Cabinetry
Floor plan, elevations and renderings
Up to $50 in samples purchased rebated upon cabinet purchase
MASTER KITCHEN LAYOUT
$399
Layout + Price Mod Cabinetry with Master Designer
Floor plan, elevations and renderings
Up to $100 in samples purchased rebated upon cabinet purchase
PLUS THESE MASTER LEVEL ADDONS
High Definition Photorealistic Renderings
OTHER SPACES LAYOUT
$99
Layout + Price Mod Cabinetry for single area: 1. Butler's Pantry 2. Islands 3. Kitchenette 4. Laundry Room 5. Home Bar 6. Mudroom 7. Garage Storage 8. Home Office 9. Basement Kitchenette 10. Breakroom Kitchenettes
Size Modification (Width, Depth, Height)
Floor plan, elevations and renderings
Up to $25 in samples purchased rebated upon cabinet purchase
We tailor our flexible modern kitchen design plans to meet a wide range of design needs. We don't believe you should have to pay thousands of dollars for high-end European design. All plans include color renderings, floor plan, elevations, and line item pricing. Our plans also include a photorealistic rendering and panoramic walk-through.
When you sign up get instant access to your Project Portal which is your collaboration portal which so much mightier than email with these features:
1. Mark-up and/or video over draft design, photos and documents with your comments
2. Keep files tidy in a repository and have threaded conversations that are easy to find
3. Keep in touch with anyone on your Mod Team
4. Set up screen share calls
5. And so much more!