BLUE KITCHEN CABINET INSPO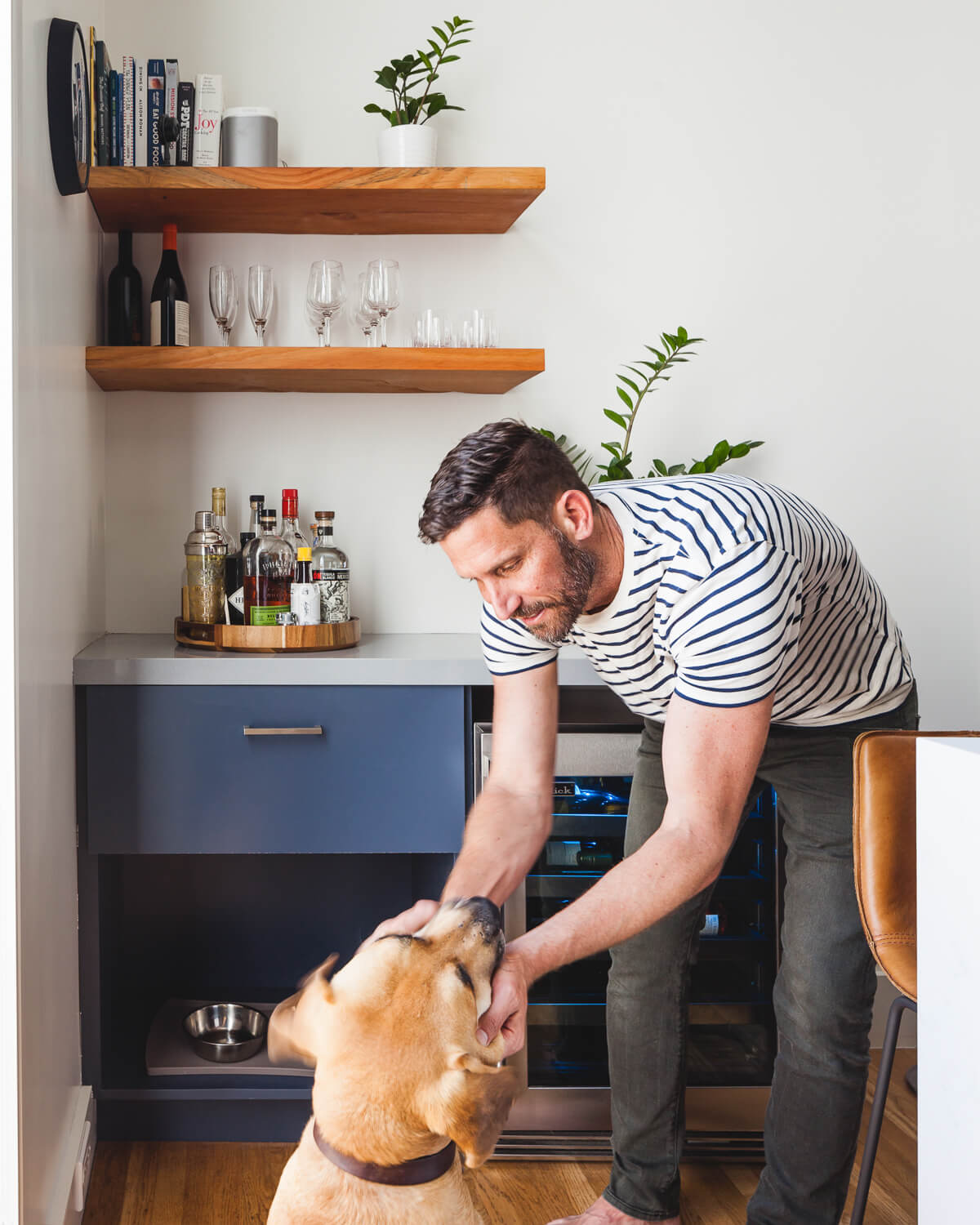 Kitchens come in all kinds of styles and sizes, and if you're looking for the perfect cabinet color to refresh your space, why not choose blue?
Blue kitchen cabinets fit a wide range of kitchen styles and designs, from cozy farmhouse to sleek, modern contemporary. Whether you choose striking modern blue kitchen cabinets for a dramatic look, or light blue kitchen cabinets for a cool, calming effect, it's a sure bet that blue kitchen cabinets will provide a look that you'll love.
Blue kitchen cabinet ideas are bringing a new level of style to the kitchen. Historically, blue has not been associated with a modern kitchen, but when you think about it, it actually makes sense. Based on the psychology of colors, blue is a color that represents calmness, solidity, cleanliness, as well as natural aspects such as sky and water. So, it has many characteristics that make it an excellent choice for kitchen cabinet colors. Apart from this, it is easy to understand why blue cabinetry is growing in popularity. The incredibly wide variety of blue color tones makes it easy to find a color that will work well in your kitchen.
You can find navy blue kitchen cabinets, light blue kitchen cabinets, powder blue cabinets, and other modern blue colors that have plenty of personality. Currently, navy blue cabinets are very trendy, and they look great as an island in any modern kitchen. Additionally, it is a color that goes well with stainless steel appliances. There is nothing like a sunny day under a clear blue sky or gazing out at a shimmering blue ocean to put you at peace. Blue evokes feelings of relaxation, peace, quiet, and grandness. Inside the home, blue creates the same feeling of tranquility, space, and luxury.
Benefits of Blue Kitchen Cabinets?
We don't just cook in our kitchens—we also congregate, do homework, enjoy meals, and more in them. In many homes, the kitchen is one of the primary places where everyone gathers, both during and between mealtimes.
When it comes to making your kitchen more inviting, color is crucial in setting the mood and tone of a room, and blue cabinets provide a crisp, clean look that can be both calming and invigorating. Additionally, expert designers say that in today's color landscape, blue is considered something of a neutral color because it blends beautifully with so many other shades.
Modern blue kitchen cabinets can encompass ranges of royal, navy or indigo, while light blue kitchen cabinets can include colors like sky, ocean or baby blue. Dark blue kitchen cabinets add lots of flair and drama, but you can also make a design statement with a deep teal or serene sky blue.
You can choose a warmer, more intense shade, or a soothing, tranquil pastel—it's all up to your own color preferences. With the wide range of attractive hues available in today's modern blue kitchen cabinets, you're sure to find a blue that will go perfectly with the rest of your home.
Shades Blue Kitchen Cabinets
Are you attracted to a single tone of blue or a trendy two-tone cabinet? When it comes to the right shade of blue to give you the desired impact and the perfect match of style, these are some ideas to help you out in designing.
Dark Blue Kitchen Cabinets
Dark blue shades like navy or royal blue are a luxury blend of coolness and warmth that is perfect for a contemporary or modern kitchen.
It is probably a good idea to contrast dark cabinets with white or light grey. You might even consider a copper splash back!
Light Blue Kitchen Cabinets
In relation to light to mid-tones of blue, a blue kitchen cabinet is a perfect choice for adding an airy, calm, playful atmosphere.
It is ideal and elegant for small kitchens in any decor to use light blue cabinets, while medium and dark colors are best for larger ones. Kitchens with light blue cabinets look great with very light colors, such as white subway tile backsplashes and grey or white countertops.
ALL THE BLUES
Are you here for Blue Kitchen Cabinets? We have 14 Blue Cabinet Fronts for you to choose from. See our entire collection of Blue samples. Want a breakdown? See Wood and Painted options in Naturals. See Acrylic Blue options in Euro and see Blue Thermofoil options in Bylder. Order samples today and see them in your home in just a few days.
Whether it's an all Blue Kitchen in paint, wood or other modern finishes you can start with visualizing your cabinets and get pricing by having a Mod Cabinetry certified designer plan your Kitchen. Sign up today and we'll start working with you on your Kitchen right away.
Lines that offer Blue Kitchen Cabinets
Don't see the right Blue? Choose any Blue from Sherwin Williams for a custom paint color in the Naturals Line. Custom color process is a $1400 add-on fee.
With customizations, faster lead-times and lower pricing, Naturals is a perfect

alternative to local custom cabinetry.
---
Walnut, Rift Oak, Painted, Maple, Alder and Cherry

All Wood

All USA made

Touch Latch options
Blum Hardware Throughout

All Wood

All USA made

Fully assembled
With faster lead-times and lower pricing, Euro is a perfect

alternative to import European cabinets.
---
Euro High Gloss, Matte and Textured finishes

Want handles? Check out Arda option
Want handleless with aluminum channels? Check out Segmento option
Want handleless with integrated pulls? Check out Curva option

Made in Europe

Fully Assembled
With a larger catalog of options, modifications, plywood casework, Bylder is a perfect

alternative to IKEA

.
---
Matte and standard Thermofoil

Solid quality

Assembled in California with imported parts

Fully assembled
QUICK AND EVEN MORE AFFORDABLE
STOCKT
With lighting fast lead-times quality European made parts, Stockt is a perfect

alternative to stocked cabinets imported from China
---
European Made

Stocked and ready to ship
Available in Gloss White Only

Fully assembled
Let's Get Started Designing Your Blue Kitchen
Mod certified designers are experts at high-end modern design. These are not your big-box store or classic kitchen designers. They are superheroes of modern design principles. Clean lines, flush look, and unique symmetry are just some of their superpowers. Hire us to design the layout of your Mod Cabinetry kitchen.
We use state-of-the-art rendering and panoramic software to give you the absolute best impression of what your cabinetry will look like before you buy. Our Plus and Primo design plans come complete with photorealistic renderings and a room walk-through. Go ahead, click the yellow bull's-eye and give it a try!
START WITH REMOTE DESIGNER
Our Mod certified designers work with you on your terms. No hard sells, showroom hopping, or big-box stores. Whether we are converting your professionally made plans or starting from scratch, we listen and are just one click away on your own design dashboard.
Use our FREE planner and design your kitchen using our curated catalog. See for yourself how you can lay out your kitchen, add appliances, and visualize it all in color renderings based on your selected finish.
STANDARD KITCHEN LAYOUT
$199
Layout + Price Mod Cabinetry
Floor plan, elevations and renderings
Up to $50 in samples purchased rebated upon cabinet purchase
MASTER KITCHEN LAYOUT
$399
Layout + Price Mod Cabinetry with Master Designer
Floor plan, elevations and renderings
Up to $100 in samples purchased rebated upon cabinet purchase
PLUS THESE MASTER LEVEL ADDONS
High Definition Photorealistic Renderings
OTHER SPACES LAYOUT
$99
Layout + Price Mod Cabinetry for single area: 1. Butler's Pantry 2. Islands 3. Kitchenette 4. Laundry Room 5. Home Bar 6. Mudroom 7. Garage Storage 8. Home Office 9. Basement Kitchenette 10. Breakroom Kitchenettes
Size Modification (Width, Depth, Height)
Floor plan, elevations and renderings
Up to $25 in samples purchased rebated upon cabinet purchase
We tailor our flexible modern kitchen design plans to meet a wide range of design needs. We don't believe you should have to pay thousands of dollars for high-end European design. All plans include color renderings, floor plan, elevations, and line item pricing. Our plans also include a photorealistic rendering and panoramic walk-through.
When you sign up get instant access to your Project Portal which is your collaboration portal which so much mightier than email with these features:
1. Mark-up and/or video over draft design, photos and documents with your comments
2. Keep files tidy in a repository and have threaded conversations that are easy to find
3. Keep in touch with anyone on your Mod Team
4. Set up screen share calls
5. And so much more!