Mod Cabinetry is created by the same people that are behind Ecohome Improvement, one of the longest running green building stores in the nation. We are designers, creators, and environmentalists who have created the most affordable, modern, healthy home cabinetry on the market.
Read on for select Mod Cabinetry reviews from our clients.
I wanted to thank you for the beautiful cabinets that have gotten a TON of attention since our space opened here in Portland ME! I look forward to working together again real soon. Janeen Arnold
I am a kitchen and bath designer in the Bay Area and I specialize in modern kitchens and baths. Since I only do modern cabinetry I was very excited that I was able to find a frameless line of cabinets with extensive modern door options that is made as well as Mod is. I had been scouring the market for such a product and in my opinion it doesn't exist anywhere else. The combination of options and value you get for the price is unbeatable. It didn't take me long to place my first order, and since then I have been a loyal customer. The entire team at Mod is dedicated to customer satisfaction, and the project managers is super knowledgeable about the product and will work with you to achieve success. You can trust you are in good hands and your kitchen or bath will look great!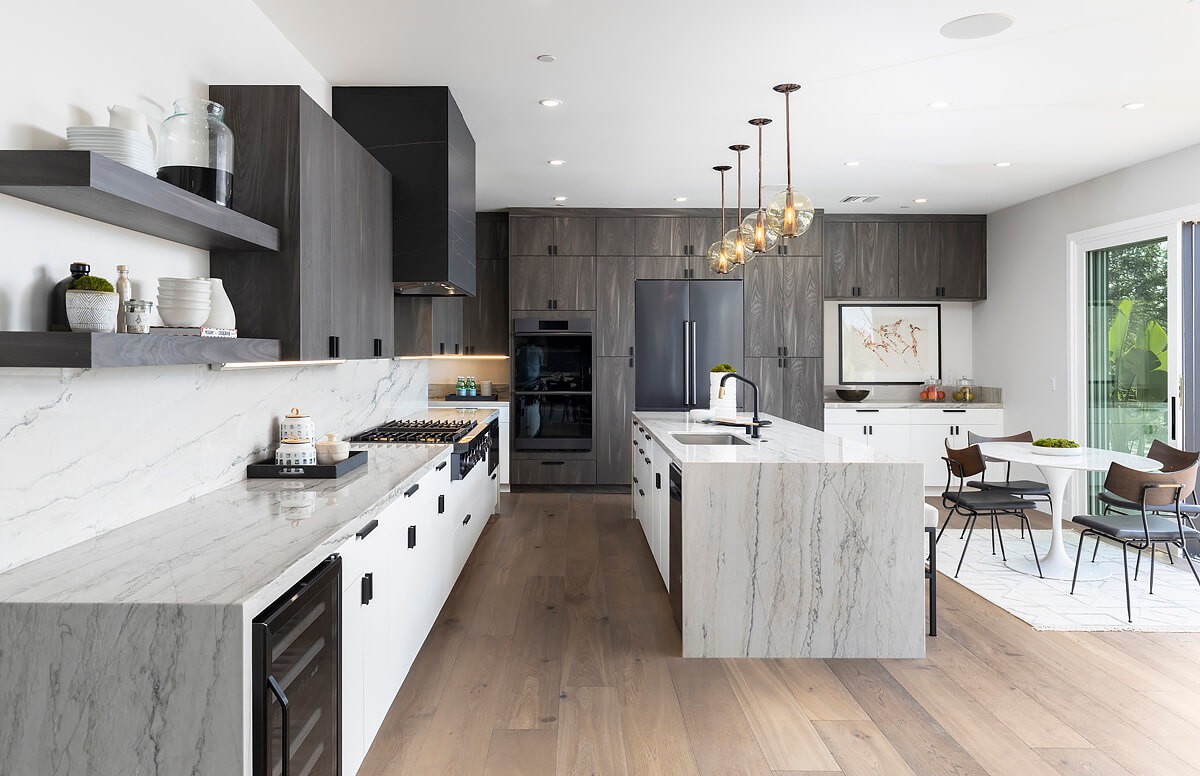 I was looking for functional beauty and I found it in Mod Cabinetry. The walnut vanity is nothing short of beautiful from both a functional and an aesthetic perspective. It is centerpiece of my bathroom design. The rich walnut grain and smooth surface are gorgeous! Functionally, the cabinet's hardware slide as smooth as butter. The excellent prices deserves an honorable mention. Check out Mod Cabinetry at Eco Home!
Mod is my go-to cabinet line, fulfilling the need for modern, European cabinets (what all my clients are asking for) at high quality and for reasonable cost. The casework and drawer box construction is smooth, their selection of woods and finishes broad, and their options for interior fittings and level of customization ample enough for even the most challenging space.
I've been most impressed with their reasonable prices for the kitchen design packages. Being able to see multiple views of the kitchen design, rendered in color, is pretty amazing! And they are happy to revise the design to get just what you want. Highly recommend!!
I have honestly been trying to find the right business to help with this remodel for a year, and have had better customer service and communication from 2500 miles away then from the kitchen centers in my home town. I am so excited and hopeful, and for that I genuinely thank you!!
Mod is seriously taking cabinetry to the next level! If you are a homeowner or especially a design pro, I highly recommend checking out this company. They have made my life so easy- I can design & order right on the website. Plus their finishes are exactly the clean modern look I am after. I have been impressed with the quality, especially for the price. Very reasonable.The customer service is impeccable. Cannot recommend enough!
We made the right choice with Mod Cabinetry. I would absolutely recommend them to anyone and plan
on using them for our future projects. Mod had different design options you can use. We used the Mod full design plan. The drawings were quick and impressive. When we made a few revisions the communication with Mod was simple and
concise. They laid out the process early on and followed through the whole way.
My contractor got the cabinets installed and they are so beautiful! Thanks again for all of your help! I have been completely impressed with Mod Cabinetry. The cabinets are gorgeous and well constructed and the customer service has been top notch!
We're pleased with the quality of the paint finish and with the color. It's bright, but it looks good with all of the wood in the house. The Walnut floating shelf turned out very well— nice quality wood and a really nice match between the veneer and the solid wood edge trim, it's hard to see any difference between the two materials.


Thanks for all of your work. We couldn't be happier!
The team at Mod Cabinetry were absolutely wonderful to work with, and understood the difficulty with us being in another country and went above and beyond expectations to make sure we were looked after. When the remodel was done and we visited our 2nd home, I was pleasantly surprised with the outstanding quality of the cabinets. Even my contractor commented on the high quality construction. We will be definitely using them for our future rental properties.
I painstaking look at details before making a purchase decision. What tipped the scales to Mod versus the competition were four key aspects. 1.) I wanted a contemporary look for my kitchen. Frameless cabinets are important for this look 2.) The components Mod cabinets are made from better material than our local custom shop 3.) We love our home. Over the years I've found that, "you get what you pay for." We didn't want cheap garbage in our home. 4.) I received better customer service through MOD than my local cabinet shop down the road.
Mod in more ways than one. This company provides modern, sleek, well made cabinets and uses technology to keep the prices down. Even though their design software is easy to use online, there are professional and friendly people available to help who stand behind their products. Well done in every aspect.
Mod Cabinetry offers both an impressive product and outstanding customer service. Their Online catalog makes it easy for designers to browse available styles and sizes. In addition to what's shown in their catalog Mod can also accommodate a great number of customization requests. In addition to a good selection of wood finishes in both Shaker Style and slab doors they also offer custom paint color finishes. I have worked with Mod Cabinetry on several projects so far and it has been a great experience every time.
We're really happy with the project! Working with you and the mod team was great! I've recommended the company to others who are considering kitchen remodels.


I wanted something that would have a modern look but was still affordable and had the option to do the work online. I was worried about how this was going to work with me on the West Coast and my dad on the East Coast, but Mod made it very easy. The cabinets are great quality and wonderful, and the customer support from Mod Cabinetry was amazing!
I want to show off the wonderful cabinetry and tell everyone about the amazing people that worked with me to achieve a clean, modern look for my kitchen and vanities in all the bathrooms as well as the laundry room. I can't say enough wonderful accolades about Mod Cabinetry and the people that worked so hard with me. Simon, the designer, put up with my constant input and questions. Monti was so helpful with the vanities and my order and all my not-so-minor changes and add-ons. I even flew out to San Francisco to meet and see this wonderful team and their products.
Mod Cabinetry is the future of kitchen and bath design. Their products are absolutely stunning, cutting-edge, contemporary design in a wide range of gorgeous finishes. And, it's all made of eco-friendly materials! Their prices are remarkably affordable considering the quality of the products. To top it off, the staff at Mod Cabinetry is super knowledgeable and friendly.